WHAT WE DO
Dynamic Outcomes is a financial market research and forecasting service, which has specialized in providing comprehensive and consistently accurate forecasts on currency and other financial markets since 2005, While the primary focus has been on the Rand versus major currencies, we have forecasted many other currency pairs, indices and commodities.
HOW WE DO IT
We use a combination of programs and years of knowledge and experience in order to provide you with the most likely outcome for the market based on current data. The foundation of our analysis is the Elliott Wave Principle - a study of human behaviour in financial markets - which still shapes every forecast we give you today, using our unique method of applying it alongside pattern-matching, ratio analysis, time cycles and momentum studies.
When we started

We started publishing forecasts on financial markets professionally in 2005, but our forex journey started 12 years prior.

Consistent Accuracy

Since 2005, we have have consistently helped clients to anticipate future movements of the Rand across all time frames

The Future

We are continually looking to expand our offering to clients, and have some big things planned for the near future
Having been in an export-related business since 1993 (tank container investment management - see www.premiertank.co.za), by 2001 we fully believed (after being 8 years in the business) that we were clearly operating in a definite, steadily-depreciating currency market. In this period we had tracked daily the Rand's fall against the Dollar in a clear trend from the low R3's to the mid R6's by 1998, and we were not surprised to see this trend continue the next 3 years - although the sharpness of the rise in 2001 to over R13 was pretty mind-numbing. But when the Rand reversed trend thereafter for the next 4 years, our business model and "understanding" of market movements was turned on its head. By the time we came to late 2004, with the Rand now below R6.00 to the Dollar, we were floundering. It was this unexpected and unseasonable appreciation to levels stronger than trade-weighted value that spurred us to undertake an in-depth study into the Rand. During 2004, James and Alan spent many long hours researching wide range of economic data and Rand currency movements with a view to establishing the real value of the Rand in the market. The results of this in-depth research were set out in a summary entitled "Rand Report – July 2004", (we still have not seen anything else published like this), which clearly showed that fundamentally the Rand was grossly overvalued, just as it had been undervalued in 2001...
(This free report is now entitled "The Rand Exposé – the Fundamental Truth", and has since been updated regularly to maintain the currency of the economic and fundamental analysis of the Rand).
If this was so, what actually moved markets? It clearly was not fundamentals? It was this question that led us to the Elliott Wave Principle and to our forecasting service, based on the most advanced Elliott Wave technology available.
James Paynter - Head Market Analyst/Director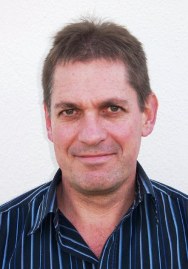 James is head analyst and the driving force behind Dynamic Outcomes.
He comes from an academic schooling and mechanical engineering background, having qualified as a Press Toolmaker at Volkswagen SA in 1989 (being awarded Toolmaker of the Year in 1986), and then gone onto complex CAD-based design and development in their Product Engineering Division.
During this time he obtained his Mechanical Engineering National Diploma with distinctions in all subjects.
In 1992, he left to join family business PTS where he gained considerable experience in business management and financial analysis. In 1993, he was jointly responsible in the development and launch of the tank container investment management operation, and assisted in development of the business plan and structuring, to planning and implementation of both accounting and operational systems.
In addition, James was responsible for the development of complex financial modelling programs, used for structuring, analysis and marketing of tank container investment and leasing opportunities.
However, it was his responsibilities for the exchange control and foreign currency exchange aspect of the business which led to a fascination in market analysis, foreign exchange and global economics.
In order to assist in the timing of converting investor income to Rands, he built his own charting program in Lotus 1-2-3 with numerous indicators, oscillators and trendlines programmed from base formulae (MACD, VHF, RSI, ATR, ROC, Williams%R, Stochastics, Bollinger Bands, plus) using daily Open-High-Low-Close data faxed each morning from the bank (there was no publicly available data back then).
But one thing this basic technical analysis did NOT forecasts was the huge run up to 13.85 in 2001 followed by the collapse to 5.60 at the end of 2004.
It was this that led to a voyage of discovery in order to anwser 3 questions:
What actually determines the Rand's true value?
What has caused it to swing so wildly either side of fair value
Was there any way to know where the market is heading and avoid making the mistakes we had made by hedging at just the wrong time?
And this led to his discovery of the Elliott Wave Principle (which settled all the above questions) and to becoming proficient in analyzing and forecasting the Rand and other markets using sophisticated Elliott Wave pattern-matching software to the extent that he was chosen as one of the top 3 analysts to provide daily forecasts on major currency and stock market indices.
It was in 2005 that James perceived that there was a need in the South African market place for a reliable forecasting service on the Rand and this led to the launch of Dynamic Outcomes service in October 2005, which has since this date provided forecasts to hundreds of clients, initially on the Dollar/Rand, but since then on many other markets, all with the same professionalism and consistent accuracy.
James is recognized as a leading expert on the Rand and regularly writes articles for various trade and financial publications; he has also presented his views on the Rand and financial markets at multiple seminars and events over the years.
James trades the currency markets for his own account part-time.  He is married with two children – a son and daughter.
Company Name: Dynamic Forex Solutions LLC
Physical address: 603 Mojave Trail. Georgetown KY 40324 USA
Email address: info@dynamicoutcomes.co.za
Phone No: +27 (0)41 373-7160 (SA) +1 859 202 9889 (US)