11 March 2014

Dear Fellow Rand Trader,

If you have been involved in any foreign currency transactions for any period of time (as I have since 1994)...



...whether it be in converting funds for exports or imports ... or in payment for (or receipt of) services rendered offshore

... or sending investment allowances offshore ... or bringing foreign-earned income into the country ... or even in forex trading


...I'll bet you have been through this very painful experience:


You need to convert some funds the next few days...

You phone the bank for the Dollar to Rand exchange rate and find out the market has moved 5 cents in your favour this morning. Do you trade now, or wait?

You think you'll wait...

... you phone the bank again an hour or two later, and then your treasury adviser to see what they say. They say the market has moved for the day and you should probably convert now.

But you're not sure ... you still think it could go further...

Sure enough...the market moves another 2 cents in your favour, but a further 2 cents would be nice. You tell yourself you'll trade when the market hits your target price.

You get an important call and are distracted for the next half an hour. When you check again – the Rand exchange rate has suddenly reversed by 10 cents...and is looking to trend further.

Panic stations!

You TRADE QUICKLY before the market really goes through the floor!

...less than an hour later the market reverses again and moves strongly in your favour the next few days by 35 cents!

Aaargh!! Once again, you sold at the low!

"Couldn't someone have told me??!!"
Sound all too familiar? Heart-rending, nerve-destroying, emotionally-draining stuff!
I know...
we've been there
-
all too often
in the past!
Our story is probably one of a multitude that have been hurt in this fashion, but there's definitely a silver lining to this very dark cloud
...an amazing discovery that we want to share with you, so that YOU too will be able to avoid the mistakes that we made.
Having been in an export-related industry since 1994 (tank container investment management – see
www.premiertank.co.za
), tracking the South African Rand exchange rate became a daily occupation. However, the more we thought we could follow and understand this market, the more mistakes we seemed to make.
The only thing we were certain about was that the market would move in the right direction only once we had traded – it seemed the whole market was watching for our trade which would signal a big reversal to levels that would have been much more favourable to us.
However, long term, we thought we had the Rand taped...
Looking at the Rand historically, we were clearly in a definite, steadily-depreciating market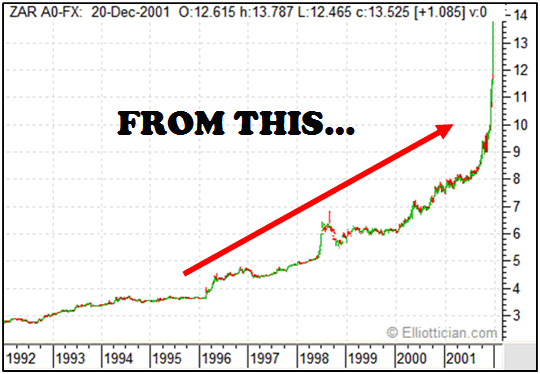 ...the Rand exchange rate, in our opinion, was in a defined trend and would only continue in that direction:
... from around 3.30 Rand to the Dollar in 1994...
... to breaking above 5.00 in 1996
... then on to 6.50 in 1998, and 7.20 in 2000
...then more rapidly from 8.00 in February 2001...
,,,and finally into that heart-stopping blow-off to 13.85 just 9 months later!
This was great for exporters and all hard-currency earners, but NOT nice for importers! For exporters, however, the sky was the limit, it seemed...where to next – 20 Rand to the Dollar?
Then bang!
A
BIG reversal
to 11.50 in just a few days...
Well, we thought, the rise was overdone, we needed some pullback, didn't we? The market moved back up to 12.00 in January 2002…just as we thought…
Enquiries for tank containers abounded... we ordered more tanks to be built... prudently took forward cover to hedge the Dollar-based shipping costs.
Then CRASH!!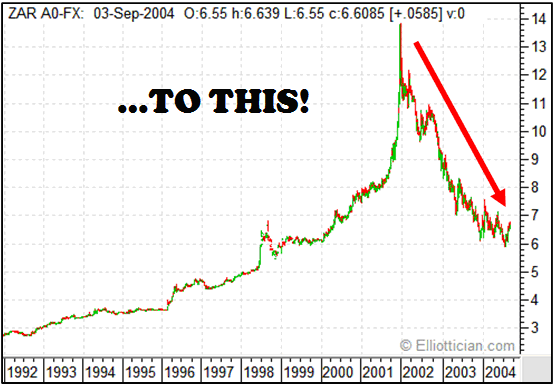 The market dropped sharply to 10.00 by May 2002... ("Ouch")
...then to 8.50 by December 2002 ("OK, that's enough")
...and then further to 7.00 by April 2003 ("Whoa, too much!")
...Investor interest and commitment dried up as quickly as it had appeared.
We had to cancel our orders with the manufacturers (big loss), and had to cancel the forward cover we had in place (even bigger forex loss). Ouch!
And if that wasn't enough – the Rand's march continued...
... to 6.20 by December 2003 ("Total desperation")
... and finally hit 5.60 late December 2004 (by this time "Absolute despair")
Boy, when you're in a Dollar income business, this experience is terrible, first taking big losses and then watching your residual income being steadily and dramatically eroded, and not being able to do ANYTHING about it!
We fought against it, all in vain.
The only thing we had earned, apart from sleepless night, grey hairs and stomach ulcers, was a certificate from the SOHK (
School of Hard Knocks
).
Been there, done that!
In a few short years, our business model had been turned on its head. The Rand had steadily depreciated against the Dollar from the 1960s to 2001, and we had believed it would do so for the foreseeable future. Now, suddenly, we were in an appreciating environment – steadily for over 3 years!
What had changed, we asked?
Was our firm conviction
– that the Rand was in essence a depreciating currency –
right or wrong, we asked?
We decided to undertake an in-depth study into the Rand, looking at the real fundamentals of the South African economy to determine where the Rand exchange should be, based on fundamentals, and whether we were now in a strengthening currency economy.
Our own in-depth study into the Rand confirmed our convictions...
but also raised the question...
This study convinced us that the Rand was merely overcorrecting from the huge spike in 2001, and that sooner rather than later the market would revert to equilibrium and continue its depreciating trend once again.
The big question was
WHEN?
We shared this Study with friends, clients and any others that were interested (an copy of this is available to our clients). And we asked for some feedback.
One of the questions we asked was:
"What is your biggest and foremost question regarding the Rand?"
And the resounding consensus was:
"Where is the Rand exchange rate likely to be next week or next month or the next year or two?
If you could give us this projection with some degree of certainty, this would definitely be something useful!"
Honestly, we thought,
that's really asking the moon!.
Impossible!
No one knows, or can possibly hope to forecast this unpredictable market...we had tried for years, and burnt our fingers badly – we knew, if anyone did!
But then in late 2004 (almost by accident), something exciting happened...
We discovered the Refined Elliott Trader
This was a most amazing analysis tool - and the most advanced forecasting technology on the planet.
And we were intrigued... In fact,
VERY
intrigued.
You see, I had been doing technical analysis for over 10 years up until then (to assist with the timing of tank investor rental income conversion to Rand), using normal technical analysis methods and tools, but these had not predicted the blow-off of the Rand in 2001, nor the subsequent dramatic multi-year change of trend.

But this was different, and made me see the markets in a completely new light:



There was a science behind this technology and its algorithms, which made perfect sense (once you understood it):

If you look at any financial market, be it forex, stocks, bonds, commodities, indexes, and the like, you see that most of these markets move in see-saw patterns, not so?

Well, Ralph Nelson Elliott, a US stockbroker, noticed this in the early 1930s, and proceeded to analyze these patterns in depth, and the conclusion he came to was this:
All liquid markets move in definable patterns

governed by the Laws of Nature...

...the result of

mass human emotion

, flowing from hope to fear, and back again.

Given a set of data, the

majority of a crowd would react

in the same inexplicable but

predictable way.

Not all, but most – like a

human HERD INSTINCT.

And so it is with all liquid (well-traded) currency markets, of which the Rand is just one.

Markets move in set patterns of waves, which repeat themselves in smaller and larger degrees, according to defined laws. And by knowing what likely pattern is in play and where one is in this pattern, you are able to determine the probability of future market movements.

But, unfortunately, this well-accepted and respected Elliott Wave Principle - that made perfect logical sense - proved

unreliable in actual live markets

.

Why?

--Because the SAME human emotions were unavoidably engaged when determining what pattern was in play.

Well, Rich Swannell, the founder of the

Refined Elliott Trader

, was determined to overcome this problem, and proceeded to create the first software ever to fully computerize and refine this principle and develop what has become known as the

Refined

Elliott Wave Principle.

Over a 3 year period, using a network of 3000 computers across 65 countries, he analyzed

over a million of actual historical market patterns

according to the rules of this theory, the results being stored in a massive database.

Then, he proceeded to develop this powerful software which could compare a current market situation with hundreds of thousands of actual historical market movements

...and come up with the best fitting patterns, each providing the

most probable completion of the current market pattern

in both time and price

...based on what

similar identified markets

had

actually done!

Well, it all sounded very convincing and feasible, but understandably, we still had real reservations, bordering on skepticism – did it actually work?



And, most importantly, would it work for the Rand?

Our initial tests were promising, but the only way to determine if this was really the answer was to take the plunge and learn how to drive the somewhat-complex software ourselves, starting with an intensive 60 module certification course.

And then we started analyzing and testing with live Rand exchange rate data, issuing internal daily reports of forecast movements and predictions, and going back to verify their accuracy.


And, believe it or not, finally, we were convinced.

This actually worked! And with over 80% accuracy!

Much, much better than the poor record that we had experienced to date with our Rand trades.

And perhaps most exciting of all, this software confirmed - as early as March 2005 (per the image below):

The Rand had probably bottomed at the beginning of 2005, and
The Rand could be expected to rise for the next few years, albeit in a zigzag fashion, with a likely target area of 11.30 to 15.50.

And, as you might remember, this is what happened over the next few years...



...with the Rand rising over the next three and a half years to hit 11.8610 on 22 October 2008 - just as predicted!




Click image to enlarge...


Imagine if we had known this sort of information in 2001 or in 2002?

Imagine the different decisions we would have made! Imagine the losses we would have avoided! Just imagine!

Well, we couldn't change or fix the past, but we now knew something of the future.

We now had superior knowledge, which would empower us

to make educated, informed and wiser decisions in future.

And, having made this discovery that would change things forever for us, we wanted to share this with others like you, so that they could avoid the financial and emotional pain we had endured.

If this could make such a difference to our trading decisions, we wanted to help others, like you.

But first, we wanted to be absolutely sure that it would in fact benefit others.

So in October 2005, we took the next step of publishing forecasts for the benefit of 217 selected clients.

And the result?


An overall forecasting accuracy of 89%* from late October 2005 to July 2006!

Another giant stride towards our objective in determining whether this software worked for the Rand. Below is a snapshot of our track record from October 2005 to July 2006: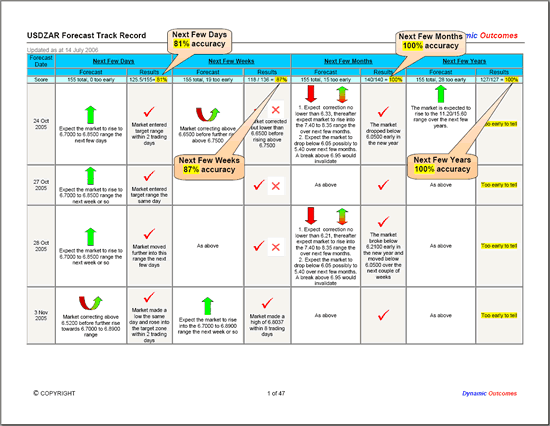 Click to see the actual track record PDF
---
* This is the aggregate average accuracy of the track record for Next Few Days, Weeks and Months from October 2005 to July 2006 (please note disclaimer).


In summary, this technology worked consistently well, not always right, but consistently well.



BUT, you may well ask...

...did it actually work over a longer period of time

...and did it work for clients in the Real World?

Good question, indeed, and one which we wanted to prove out ourselves.

Well, as they say, a picture is worth a thousand words...

Since 2005, with this technology, we have predicted with uncanny accuracy the major turning points in the market for the Rand against Dollar, as shown below.


Click here to enlarge...


And in so doing, we have managed to clock up an average

81.7% accuracy

over different time frames.



See full track record & more examples here


That's the history in summary...

...But let's give you a live recent example of a USD/Rand Forecast

Below is a view of the Rand forecast issued on 25 July and the actual market movement that followed the next few weeks.



Click here to see the actual forecast...


As you can see, this update gave us and our clients a clear heads up the day after the low of 9.6122 was registered as to where the market was likely to head in both time and price.

Just imagine what YOU could have saved or made by having this knowledge at the time:
If you had bought just $10,000 then

at 9.80 in July 2013 instead of a months later at 10.40 (or sold at 10.40 in August instead of selling at 9.80 in July), this could have made a difference of

R6,000 – straight onto your bottomline!

And what if it was $100,000?

An increased profit of R60,000!

Or $1,000,000? An improvement of R600,000n to your bottomline!
Now these savings are perhaps theoretical, but they help to illustrate clearly what is possible for you – starting with your very next forex decision.

And then the next. And the next.

Now isn't that Powerful, POWERFUL STUFF?!


Knowledge is power – power to make educated and informed decisions.

And we want you to have this knowledge.

Starting today.


Over the years since our launch of this service, our forecast presentation has consistently evolved and improved into a concise, unambiguous, easy-to-understand format, which has been used by hundreds of clients in 33 different countries and 5 different continents, and one which we are therefore confident will be ideally suited to your needs.

Simple, Concise and Easy-to-Understand Forecasts
Giving You Probable Price and Time Targets
Whether Short, Near Medium or Long Term

Beginning from today, through subscribing to this service, you can start receiving these Forecasts on the Rand versus the Dollar, Euro and Pound, giving YOU an edge - in every trading decision from now on, and the ability to make unemotional, educated and informed decisions.

Below is an example of what you can expect to get access to when you subscribe today, in four different timeframes:


Click to view full size...




THIS IS WHAT YOU GET - STARTING TODAY


As a preferential subscriber client, starting TODAY, you get the following:


You will receive an updated Rand Forecast in the above format, taking into account the previous period's activity.
You will be able to see at a glance the overall outlook, whether you are concerned about the:

Short Term (Next Few Days)
Near Term (Next Few Weeks)
Medium Term (Next Few Months) or
Long Term (Next Few Years

For each timeframe, the forecast will provide you with a probable target area in both price and time – where the Rand is likely to move to, and by when.
If there is a possible alternative outlook, the forecast will provide both confirmation and invalidation levels for these particular scenarios to play out.
Support levels (expected to resist the market moving down) and resistance levels (expected to resist the market moving up) are also highlighted.
This Rand Forecasting service has already given existing clients
a significant edge in their forex trading decisions.
We could show you many more examples (these are freely available on the site), but what really matters is what our clients themselves have had to say.

Below are just a few of the testimonials we have received from clients telling us what our Rand forecasting service has done for them:


"By waiting on a few transactions...we saved thousands"
"My partner and I own an investment company that is involved in international transactions. Obviously from our point of view Forex forecasting is a central theme to our forward planning, and 5 year strategic goal setting.
The service that you have provided assisted us to forecast and budget over a monthly period. The information is not available through the press in the level of detail that we require.
Incidentally by waiting on a few transactions because of a forecast of Rand weakness we saved thousands of Rands. We moved £ Sterling into a Rand based investment transaction after the softening from R10 - R13, and as you can well imagine with large transactions this is a massive forex saving.
Thank you for a great service."
- Dimitri Sophos
Sophosco Limited
South Africa
---
"I would and have recommended your service to many..."
"I have definitely enjoyed your service to date. The quick summery of the direction of the rand over the different time horizons is most valuable and the diagram's make it most convenient to just glance at the report when one is pressed for time.
Of course, it doesn't hurt that the predictions are, for the most part, quite reliably accurate.
I would and have recommended your services to many acquaintances that, in turn, have made use of the information provided on the currency.
Again, thanks for the info and best of success for the future on your services."
- Mark Hawes
Treasury Department
South African Government
Pretoria, South Africa
---
"It has given us a competitive advantage and saved us money"
"As a complete novice in the world of forex, I have found the Dynamic Outcomes package invaluable.
The reliable information has allowed me to make decisions based on fact, bypassing completely the emotional advice offered by many bone-throwing economists.
In short: It has given us a competitive advantage and saved us money."
---
"We have been impressed with the accuracy"
"We would like to compliment you on your success with the rand forecasting and especially with the high quality, easy reading of the reports.
We have been impressed with the accuracy and true forecasting of these volatile markets. This is a significant accomplishment that undoubtedly required the dedication and cooperation of your whole team.
We have made use of these reports many times for business and personal matters and find them very helpful.
We send our best wishes for the future.
Yours truly,"
---
"I became more and more aware of how valuable it can be"

"As a wool farmer and manufacturer of portable saw mills, it is imperative to have at least an indication as to where our currency is going. Since I paid more attention to your e-mails, I became more and more aware of how valuable it can be.

Wool marketing is in a process of revolutionary change where, in some instances, I have to spot a sale during the season to sell my wool. The fluctuation of the price of wool in SA is primarily driven by the exchange rate.

As for the manufacturing business I do not have to tell you how immense a role the value of the rand plays. (I regret not buying tanker containers when you urged me to a couple of years ago). If the rand stays at these levels, we are certainly looking at the export market for our saw mills. In the meantime, I think it will be a good investment to order and pay more of our imported parts that we use in the mills.

In the light of these I want to subscribe to your service. Please let me know how to go forward in this regard. Keep up the good work.

Kind regards,"

- Herman van Schalkwyk
Trompsburg, South Africa



As you can see for yourself, this service has helped clients to save time, stress, money and effort.

Now, you might well be thinking:

"I have access to several currency forecasts prepared by banking experts, and receive these regularly - why would I need these Daily Rand Forecasts as well?"


Granted, there are some "experts" out there who provide predictions for "free" - of course, in exchange for your foreign currency business!

But do they have a proven track record?

Have you looked at their

comparitive forecasts

since October 2005?

And, remember -


If your advisors are the banks, these are the SAME institutionswho are on the other side of the dealing counter, buying when you are selling, selling when you are buying!

How can they possibly give you a totally unbiased and objective view when the Rand has just moved 15 cents - and they are unfavorably exposed on their open positions?


By comparison, this is a service where you will get a

purely objective, clinical analysis

providing you with the highest probabilities

based on actual history itself

.

With a proven track record of over 80% accuracy.

With this updated information on your desk at least twice a week, trust me, you won't believe the difference! Just knowing with some measure of assurance where the Rand is heading, and when.


...No more phoning banks, advisors, crystal ball gazers, treasury managers, or watching that Rand screen all day long.

...No more headaches, stress and sleepless nights worrying worrying what the market is going to do.

...No more being surprised by sudden big movements in the Rand, and looking around as to who or what to blame for your fate...

...be it the government, politicians, economists, the war on terror, the oil price, global warming or some village idiot!


Just simple-to-understand information at your fingertips, empowering you to make informed, rational, unemotional and stress-free decisions.


Our In-depth Rand Prediction Service

Is Yours Risk-Free from Today


And, here's the best news of all: you have come at the opportune time to take advantage of a special offer to prospective subscribers for this service (but we're not sure how long we can keep this one on offer.)

We could have priced this service in many ways.

One of them would be a percentage of any incremental savings - this could have been a very rewarding alternative! However, on principle, we do not wish any element of bias to influence the independence of information provided to you. We are therefore committed to a subscription based service.

Another method is a sliding scale based on your turnover - and this is something we are seriously looking into at present

Based on our research, this service could be sold at R800 to R30,000 per month (likely more), depending on the subscriber's own trading situation.

Even at this price, it would still be incredible value for money, considering the savings possible.



But, for the next short while, we've decided to go further and run a price testat the lower end of our pricing model...

...and you're one of the fortunate ones to get this offer.

(Depending on how it affects subscription take-ups,
we may or may not discontinue this special discount at any time)


For the moment, if you subscribe to our Rand Forecast service online TODAY, this service (plus the two bonuses) is yours risk-free for an incredibly low price of just

R 497 per month

R 397 per month (excl. VAT) per currency pair.

Now that's a no-brainer, risk-free offer.

And take it from me, just one trading decision - with the benefit of this knowledge - could pay for itself

10 or 100 times over.



Now, I know you might be asking yourself at this stage,

"Why must I pay you each month, when I can just get hold of this software,
learn to use it and then produce the forecasts myself?"

Valid question.

Frankly, this WAS possible prior to mid-2011, when this software was still open to private traders at a minimum of $2,995 plus a monthly subscription. However, following Richard Swannell's sad death soon after being diagnosed with cancer, this software is no longer for sale to the public.

But, fortunately, because we got in on the groundfloor in 2004, our investment was substantially less, and we are therefore able to offer you this service at a much-reduced price.

And to put it all into perspective -


Even if you could, why try anyway to gain expertise in this specialized market (which has taken me years to get to where I am now), when you can use some professional's time and expertise to your advantage -
And benefit many times over what you pay them?

From day one.

And all of this - for the cost of about a cup of Mugg & Bean coffee a day.

Doesn't that make good sense?



And How's This, We'll Throw in These Bonuses To Sweeten Your Investment Even Further


Finally, because you obviously have a serious interest in this subscription service, having taken the time to read this far, we have made this a virtual no-decision for you by throwing in the following bonuses that in themselves are literally worth thousands of Rands - but yours for

FREE

when you subscribe today:


Bonus #1 – "How to Turn Forecasts into Profits"
Are you apprehensive as to how you would use forecasts to actually turn losers into winners? In this eBook, we not only take you though how to read and understand the charts, but we give you a consistent edge and improve your profits, including:
What setups, entry and exit signals to look for, depending on whether you are an importer, exporter, looking to transfer foreign funds, or simply trading.
What is classed as a valid entry and exit signal.
Where to put your initial stop loss and when and how far to adjust it through the trade.
The 2-step process to exit out of a trade, letting the market tell you when to do so.
With this bonus you have all you need at your disposal to develop a trading methodology to suit your own particular trading style and methodology, and approach the market with confidence.
Yours FREE when you subscribe today.
Bonus #2 – "The Rand Trader's Handbook"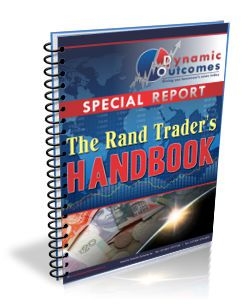 Are you often confused with terminology and mumbo jumbo used when handling your trading decisions? Not sure of how to speak the bank's lingo? Unsure if there are some arrangements that could suit you better? This easy-to-understand eBook will provide you with :
A general understanding of the currency market and its workings
The important players in this market (especially the Rand market)
The market mechanics and symbol conventions
...together with a basic Glossary of terms used in forex pricing, trading and types of contracts (explaining terms such as Ask, Bid, Pips, Spread, Margin, Short, Long, Stop Loss, Stop Order, Spot, TOM, and FECs)
With this bonus you have all you need at your disposal to understand the Rand forex market, know what trading options are available to you and be able to talk the talk with confidence.
Yours FREE when you subscribe today.
Bonus #3 – "How to Make Huge Savings on Your Rand Forex Transactions"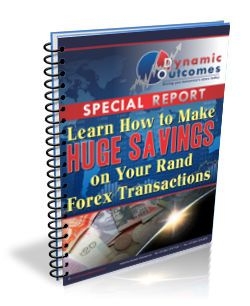 Do you know that you probably have left thousands of Rands on the table in your forex transactions, just because you did not know better, and because your Bank did? This eBook will teach you the insider secrets of trading forex with the Banks:
What you need to know before you phone the Bank for a price;
How to talk the Bank's lingo;
How to become a Pro Category client; and
The exact steps you need to take to ensure that you will always get the best possible rate - every time!
We have used these exact techniques ourselves and saved THOUSANDS for ourselves and our clients.

Yours FREE when you subscribe today.


As mentioned already, the savings you make just from these three bonus ebooks could quite easily pay for a whole year's subscription, but that's not all...



We will give you an extended

60 DAY

No Questions Asked Money Back Guarantee




So there you have our proposal to you - a completely risk-free offer, where you have NOTHING to lose, and EVERYTHING to gain.
Your Ticket to Making Informed Trading Decisions...

...with Significantly Less Stress - and Effort

...While Saving You More time and Money...Is Just Minutes Away

We have made your subscription as easy as possible – in just a few minutes you can have access to the latest Rand Forecast, plus every single one we have published since November 2005 - each issue giving you a short, medium and long term forecast.

Believe me, you'll have that missing piece of the puzzle that will give you an edge every time you need to buy or sell Dollars for Rand - adding to your wealth, and saving you time and stress.

Make TODAY the day that everything changed for you.

Subscribe risk-free now. I guarantee you won't regret it.

Here are the special links to grab this SPECIAL OFFER now.
Dollar/Rand (USD/ZAR)

Select subscription period:

(Prices exclude VAT)
Euro/Rand (EUR/ZAR)

Select subscription period:

(Prices exclude VAT)
Pound/Rand (GBP/ZAR)

Select subscription period:

(Prices exclude VAT)
Simply order online via our secure credit card payment service.
All Visa, Mastercards and DinersClub cards are accepted.
On selecting your subscription option above, you will first be redirected to the secure order form, where your contact details and card details are to be entered.
On confirmation of payment, you will immediately be sent login access details by email - and you can be reading the latest forecast within minutes.

We look forward to having you on board as a valued Platinum level client, and giving you the tools to help make your forex transactions less stressful, less time-consuming and more profitable...

As we have done since 2005 for hundreds of clients in 33 different countries, including leading automotive groups, industrialists and aviation companies.

If you have any queries, or wish to subscribe by some other means, please email us at info@dynamicoutcomes.co.za or phone us at (041) 373-7160 (international clients dial +27 41 373-7160).

To your trading success~



James Paynter
Head Market Analyst
Dynamic Outcomes Inc.

P.S. Delaying to act today could mean another uninformed forex decision. Is that wise, when you know that there is a solution right here? Just one prudent decision will more than pay for this small monthly subscription.

P.P.S. This special promotion is being tested for the next short while - after that, this unprecedented discount offer may not be available again, so grab this opportunity while it lasts!

P.P.P.S. And don't forget, our 60 day 100% money back guarantee means you have nothing to lose - and you get to keep the bonuses, whatever happens!


This service makes use of the Refined Elliott Trader software to produce market forecasts for publication, with the written permission of Elliottician and (late) Rich Swannell
---
"I would highly recommend your perceptive forecasting to persons..."
"As founder of the Refined Elliott Principle and the Refined Elliott Trader, I have personally coached hundreds of analysts in the use of our technology, and I am highly impressed with your ability to both analyse and forecast financial markets with this software.
Your track record on the Dollar/Rand is outstanding and I would highly recommend your perceptive forecasting to persons who need such information for trading or business purposes - be it short, medium or long term.
I wholeheartedly endorse Dynamic Outcomes' forecasting skills, presentation and reliable service."
Rich Swannell - (Late) Founder
Refined Elliott Wave Principle & Refined Elliott Trader
Elliottician, Elliott Wave Forecaster & Virgin Trader
---
"We have experienced nothing but exemplary service levels from Dynamic Outcomes and have even been able to obtain personal advice and recommendations that were of enormous value to us."
"We are currently involved in the establishment of a tourist accommodation business as well as a training facility that caters to a predominantly overseas market. Our training services company operates under license from our international Licensor and is therefore priced in US Dollars. These two factors open us up to cash flow risks caused by the fluctuating currency market and exchange rates.
Since coming across Dynamic Outcomes through a website search and then subscribing, we have found the information presented in the Daily Forecasts, monthly Newsletter and quarterly Rand Expose to be of significant assistance in not only understanding market conditions but also allowing us to take measures to limit potential cash flow problems through a "forewarning" of expected movements.
We have experienced nothing but exemplary service levels from Dynamic Outcomes and have even been able to obtain personal advice and recommendations that were of enormous value to us.
We have experienced market competitors who offer international currency market observations and "projections" that are included in their monthly retainer fees of in excess of R5,000 but this information is not in an easy to use and understand format as we've been accustomed to from Dynamic Outcomes and in our opinion was inferior in all respects.
We are therefore extremely grateful that we have been able to include Dynamic Outcomes on our business advisory team. You will too!"
Brendan Vermaak
Ultracare
Benoni, South Africa
Not ready to subscribe just yet?
That's fine. But as a thank you just for passing by, we would like to give you a FREE Report on the Rand, plus access to all historical plus some of our most recent forecasts, as well as a special Bonus eBook on how to turn forecasts into profits.

Simply Signup here